When this issue occurs, the app gets stuck on the "Adding title" message and spinner when you try to download a title to the app Bookshelf.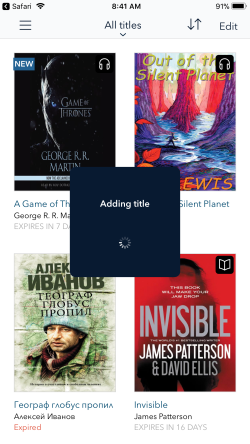 To resolve the issue, use the following steps:
Open the OverDrive app.
Tap the icon in the top-left corner to open the Home menu.
Tap Settings.
Turn off Open libraries in Safari. This will make sure you browse your library from within the OverDrive app.
Go back to the Home menu, tap your library, and try downloading the title again from your library account.
This issue will be fixed in OverDrive for iOS 3.7.2, so be sure to update the app when it's available.