With OverDrive Listen, you can listen to borrowed audiobooks right in your web browser with a single click. There are no downloads or software required; all you need is a compatible web browser.
The basics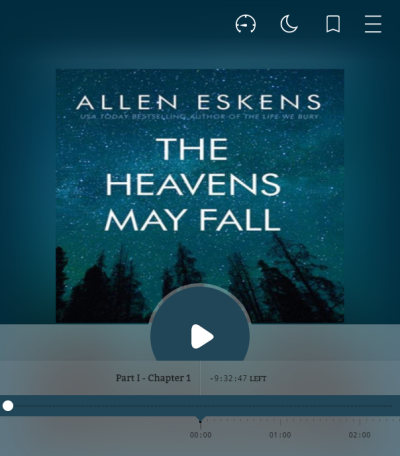 Click or tap the Play/Pause button to start or stop the player.
Swipe right on the book jacket to rewind. Swipe left on the book jacket to jump ahead. The farther you swipe, the further you jump.
Note: This feature is only available in Safari, Firefox, and Chrome.
Click or tap on the book jacket to show the skip and play buttons and hide the timeline.
Use to add bookmarks, highlights, and notes to an audiobook.
Click or tap to switch between common playback speeds. Drag down on the button to select a more precise speed.
Click or tap to set a 30 minute sleep timer (by default). Drag down on the button to select a different sleep timer and make it your default.
Use the seek bar to move backward or forward in the audiobook. You'll also see chapter breaks, bookmarks, and highlights on the timeline.

The menu
You'll find the menu icon in the top-right corner of the audiobook player.

In the menu, you'll find:
Chapters: Browse the audiobook's table of contents and quickly jump to chapters or parts.
Bookmarks: View the bookmarks, highlights, and notes you've placed in the audiobook. Click one to return to that part of the audiobook.
Tips & Secrets: Find advanced tips and tricks for using OverDrive Listen.
Bookmarks, notes, and highlights
Click or tap

to add a bookmark.
Hold

while audio is playing to record a highlight.
When you release

, the highlighter colors will appear. You can also Make a note on a highlighted passage or a bookmark.

You can remove a bookmark or highlight from the Bookmarks section of the OverDrive Listen menu. To do so, click and drag or swipe left on a mark and select Remove.