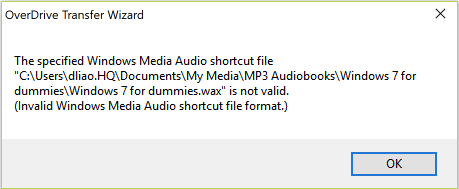 If you see this error message when trying to burn or transfer an audiobook, the audiobook's .wax file is missing or is corrupted.
Here's the full error message you may see: The specified Windows Media Audio shortcut file "...[title name].wax" is not valid. (Invalid Windows Media Audio shortcut file format.)
To resolve this issue:
Delete the audiobook from OverDrive for Window (desktop) without returning it.
Download the audiobook from your library's digital collection again.
Try transferring or burning the audiobook again.