If you get a security warning like the one shown below while browsing an OverDrive-powered website, simply click Continue to add the security certificate to your browser's list of accepted sites.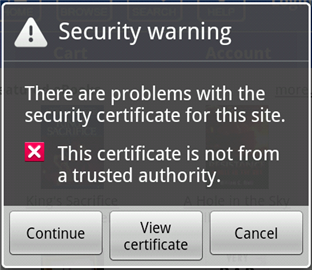 Sometimes the Android Browser doesn't have access to the most up-to-date security certificates, and thinks your library's website is a potentially dangerous page. OverDrive regularly updates these certificates to ensure maximum security for you.
Please note, if you see this same warning appear for a website you are unfamiliar with or do not trust, you should tap Cancel to avoid the site.