Yes, you can use the OverDrive app on your Android Wear watch if the OverDrive app is downloaded on your paired phone. You'll also need to download borrowed titles to your paired phone to interact with them on the watch.
You can browse your six most recent titles on your watch, and, if you've downloaded an audiobook on your phone, you can start or stop playback, see your progress, navigate through the title, add bookmarks, and access controls like skip forward, skip backward, volume, and playback speed.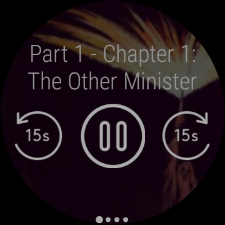 Android Wear 2.0 watch users can also choose watch face complications for OverDrive. For example, you can set your current title as the watch's background image or show a title's progress bar.