If you get a "Webpage not available" error that says "ERR_NAME_NOT_RESOLVED," the issue may be caused by an outdated library collection link saved in your library list. Use the steps below to successfully connect to your library's OverDrive collection.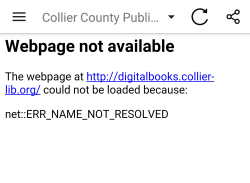 Webpage not available The webpage at ... could not be loaded because: net::ERR_NAME_NOT_RESOLVED
How to connect to your library
Make sure you've updated the OverDrive app to the latest version.
In the OverDrive app, open your "Libraries" list, then tap the library that's giving you the error.
Tap the library drop-down menu at the top of the screen.

Scroll to the bottom of the list and tap Add a library.

Search for your library. It will have a gold star next to it, since it's already in your saved library list. Tap the library name to open its collection.
Your library's collection should load normally.
If these steps don't resolve the issue, please contact your library for support. Let them know you've already tried the steps in this article, because there may be a separate issue occurring.