The 0x80080005 error (shown below) can occur when OverDrive for Windows can't connect to iTunes, which is needed to transfer audiobooks to your Apple device or iTunes library.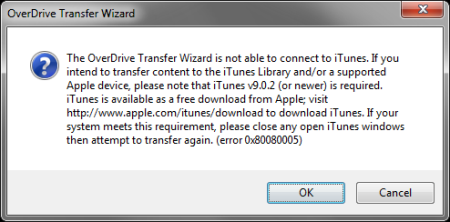 This error can typically be resolved by opening iTunes as an administrator, then trying to transfer the audiobook.
How to open iTunes as an administrator
Close iTunes and OverDrive (if you have either open).
Find the iTunes shortcut on your computer.

By default, you should see an iTunes shortcut on your desktop. It looks like this:
You can also find a shortcut to iTunes in the Start menu or Start screen

Note: Use this shortcut to open iTunes any time you want to transfer titles to your Apple device.
Right-click (or tap and hold) the iTunes shortcut, then select Properties.
Select the Compatibility tab.
Check the Run this program as an administrator box, then select OK to save your changes.

Open iTunes.
Note: You may be asked if you want to allow this program to make changes to your computer. This is normal. Click Yes to continue opening iTunes.
Open OverDrive for Windows, then try to transfer the audiobook again.
The OverDrive Transfer Wizard is not able to connect to iTunes. If you intend to transfer content to the iTunes Library and/or a supported Apple device, please note that iTunes v9.0.2 (or newer) is required. iTunes is available as a free download from Apple; visit www.apple.com/itunes/download to download iTunes. If your system meets this requirement, please close any open iTunes windows then attempt to transfer again. (error 0x80080005).