You might like our new Libby app—the easiest way to borrow and enjoy ebooks, audiobooks, and magazines from your public library. Get started with Libby on Android, iOS, and Windows 10, or learn more about it.
Not interested in or able to use Libby? For help listening to audiobooks with the original OverDrive app, see the instructions below.
You can use the OverDrive app to listen to borrowed audiobooks on your iOS device.
Note: If you'd rather listen to audiobooks in your mobile browser, you can use OverDrive Listen instead.
Once you've borrowed and downloaded an audiobook in the app, go to your app Bookshelf, then tap the audiobook to start listening.
How to use the audiobook player: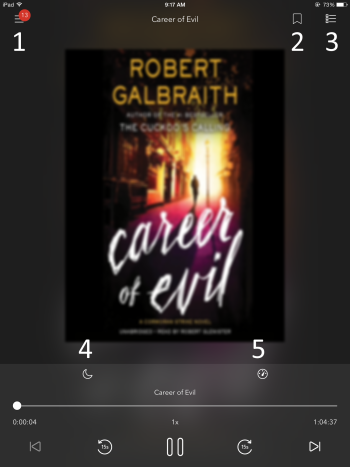 Audiobook player options (based on the numbered image above) include:
Home menu (includes a link to your Bookshelf, your library list, and app settings)
Add a bookmark
Title menu (includes an overview, table of contents, and saved bookmarks)
Sleep timer
Play speed