Adobe recently updated their Adobe ID registration process to require a date of birth. If users enter a date of birth indicating that they're under the age of 13, they won't be able to create an Adobe ID, and will receive a message stating "Access Denied: You are not eligible to use this product or service due to the Service Eligibility Requirements."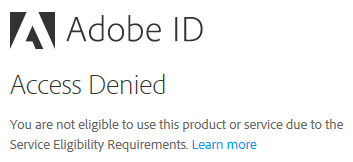 An Adobe ID is required to download DRM-protected eBooks. As an alternative, users under 13 can:
Use the OverDrive Read format to read borrowed eBooks in their browser, without downloading them.
Authorize the OverDrive app to download protected eBooks by choosing "I am under 13 years old" the first time the app opens.
Authorize Adobe Digital Editions (ADE) to download protected eBooks without an ID (to do this, go to Help > Authorize computer, then select I want to authorize my computer without an ID). When you authorize ADE without an ID, you can't transfer titles from ADE to eReaders.
Have a parent or guardian create an Adobe ID (or OverDrive account, which you can also use to download protected eBooks) on their behalf.
Please note that users under 13 can also borrow and enjoy audiobooks, periodicals, and streaming videos from their library's OverDrive website, without needing an Adobe ID.