Choose the image below that looks like the titles on your library's website.
If you'd like a hold to be automatically borrowed for you when it becomes available, follow the steps below:
Select Place a Hold to place an unavailable title on hold.

On the page that opens, make sure that Automatically borrow this title when it becomes available is selected.
Note: Automatic borrowing cannot be turned off for some titles. In those cases, you will see a note on this page letting you know that the title will be automatically borrowed for you as soon as it's available.

You can turn automatic borrowing on or off for most titles you've placed on hold by visiting your Holds page and selecting the word On or Off next to "Auto checkout."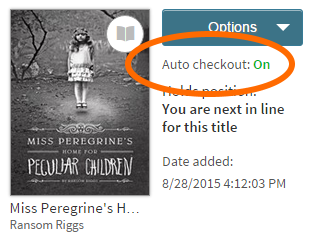 You will receive an email each time a hold is automatically borrowed for you. You can find these borrowed titles on your Bookshelf under your Account.
Note: If you've borrowed the maximum number of titles allowed by your library and one of your holds becomes available, you'll receive an email letting you know that automatic checkout could not be completed for that hold. In that case, you'll need to return a title or wait for one of your borrowed titles to expire, then manually check out your hold.