For versions of the app prior to 3.0, you'll need to first clear the Adobe ID you're using if you want to authorize your iOS device with a different one (see the instructions at the bottom) .
Note: Clearing activation information disables all eBooks in the OverDrive app. These titles are still tied to the original Adobe ID you downloaded them with.
If your OverDrive app looks like this, then you're running a legacy version of the app (older than 3.0):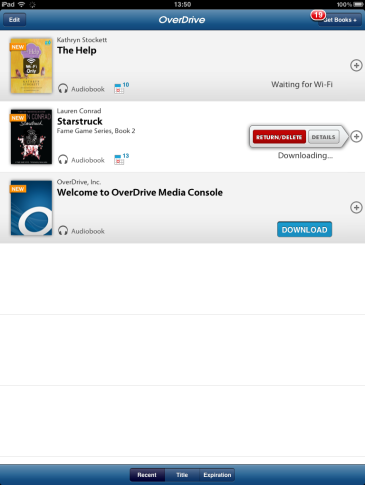 Deauthorizing OverDrive for iOS (older than 3.0)
In the OverDrive app, tap the Get Books+ button in the top-right corner. Then, open the Settings.
Under "eBook Settings," tap Deauthorize to remove your Adobe ID. Then, tap Deauthorize again to confirm.
Your device is now deactivated. You're free to authorize the app with another Adobe ID.