You can download (cache) an OverDrive Read eBook on your computer or device so you can read it later without an internet connection using your web browser.
For most devices
At the bottom of the OverDrive Read menu, there's a box labeled "Your book, everywhere." Click Download to save a book for offline reading.
Note: Not all browsers are compatible with offline reading mode.
Once you select Download, the book you're reading is saved to your browser's cache. Please note that if you clear the cache, you'll also clear any books you've downloaded through OverDrive Read. There is no download limit on these eBooks, however, so you can download them again whenever you need to during the lending period.
If you need to save some space on your device, click the X next to "Downloaded" to clear a book from your browser cache.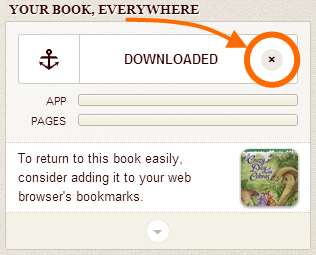 To read offline, you'll need to open your web browser and go to the URL of the OverDrive Read eBook to keep reading it. This can be done without an internet connection.
You can save the URL for a downloaded book by bookmarking it in your browser or saving it to your desktop or home screen so that you can quickly open it later to continue reading.
For iOS devices (iPhone/iPad/iPod touch)
Open the OverDrive Read title you'd like to download in your Safari browser.
Tap the Share icon in Safari, then Add to Home Screen.

Tap Add to confirm.
Open the book from your home screen prior to going offline to complete the download. Sign in with your library credentials when prompted.

Once you're finished with the title, you can delete it from your home screen like a normal app. Just tap and hold the icon until it begins to shake, then tap the X to delete it.