You can download (cache) an OverDrive Read eBook in your web browser so you can read it later offline (without an internet connection).
Note: If you're using an iOS device (iPhone/iPad/iPod touch), please see the second set of instructions below.
For most devices (except iOS), do this to read offline:
Open the Read menu on larger screens by selecting the Menu button at the top of the screen.

Or, on smaller devices (like smartphones), tap the middle of the screen, then tap the menu icon.

Select Offline Access.
Select the cloud icon to save the book for offline reading.

Once you click the cloud, the book you're reading is saved to your browser's cache.
Save the URL (address) for the OverDrive Read eBook you downloaded (we recommend bookmarking it in your browser).
Note: Some eBooks (especially those with pictures or narration) are too large to completely cache in your browser, so you'll only be able to save a portion of the book.
Once you're offline, you'll need to open your web browser and go to the URL of the OverDrive Read eBook (or, just open your browser bookmark) to keep reading it. This can be done without an internet connection.
Please note that if you clear your browser's cache, you'll also clear any OverDrive Read eBooks you've downloaded.
If you need to save some space on your device, you can remove saved eBooks from your browser's cache. Simply return to the OverDrive Read eBook, select the cloud icon, and then select the X twice to clear a book from your browser cache.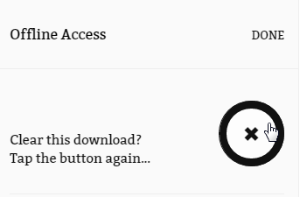 There is no limit to the number of times you can download these eBooks, so you can download them again whenever you need to during the lending period.
For iOS devices, do this to read offline:
You can read OverDrive Read eBooks offline on your iOS device by saving each eBook you want to read on your home screen. Here's how it works:
Borrow and open an OverDrive Read eBook from your library's OverDrive website.
Select the Share button (which looks like this: ) in the Safari browser.

Tap Add to Home Screen, then Add.

Open the book from your home screen, and log in with your library card.
Open the Menu (tap the center of the screen, then the menu icon), and check the "Offline Access" panel. It may take a few moments for the book to finish preparing. Once it's done, it should automatically download.
The download may take a few minutes to complete, depending on your internet connection and the size of the book.

If the book doesn't download automatically, click or tap the cloud icon to start the download.
Once the download is finished, you're ready to go offline.

When you're finished reading the book, or when the lending period expires, you can remove the icon from your home screen like any other iOS app.