You can download (cache) an OverDrive Read eBook on your computer or device so you can read it later offline (without an internet connection) using your web browser.
Downloading OverDrive Read eBooks
Open the OverDrive Read menu by tapping or clicking the center of the screen, then selecting the menu icon, which looks like this: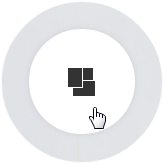 Select the cloud icon under the "Download" section to save the book for offline reading.
Note: Not all browsers are compatible with offline reading mode.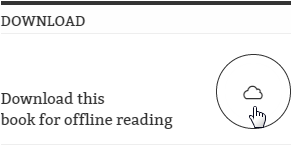 Once you click the cloud, the book you're reading is saved to your browser's cache. Please note that if you clear the cache, you'll also clear any books you've downloaded through OverDrive Read. There is no download limit on these eBooks, however, so you can download them again whenever you need to during the lending period.
If you need to save some space on your device, click the cloud, then the X twice to clear a book from your browser cache.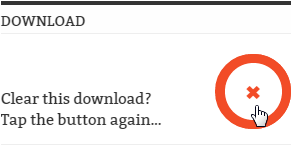 Before you go offline, make sure to save the URL for the OverDrive Read eBook you downloaded (we recommend bookmarking it in your browser). Then, once you're offline, you'll need to open your web browser and go to the URL of the OverDrive Read eBook (or, just open your browser bookmark) to keep reading it. This can be done without an internet connection.
Note: You must have an active internet connection to create, save, and sync notes, highlights, and bookmarks.