OverDrive Read is our browser-based eBook reader that works on many tablets, phones, and computers running up-to-date web browsers with HTML5 and CSS3 support.
If you're not sure whether or not your device is supported, you can test it using the sample below. Just click or tap the jacket cover.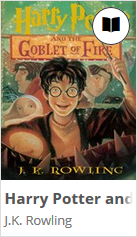 For the best reading experience, we recommend using an up-to-date browser, like one of these:
OverDrive Read compatible devices
Note: This is not a complete list. If you do not see your device here, you can use this sample of Harry Potter and the Goblet of Fire to test your browser.