The first thing you need to know is that Windows 8 comes in two basic flavors. There's Windows 8, which can run legacy desktop apps, and Windows RT, which cannot.
Why is this important? If you're running Windows 8, then you can install OverDrive for Windows (desktop) as well as OverDrive for Windows 8. If you're running Windows RT, you can only install OverDrive for Windows 8.
How do I know which one I'm using?
Windows 8 can be found on many desktop computers, laptops, and tablets. Windows RT comes on certain tablets (like the Microsoft Surface RT and Surface 2). You can check whether you have Windows 8 or RT using the steps below:
Open the Search charm (Windows key + Q or swipe left from the right edge of the screen).
Type System and wait for search results to appear.
Select System from the results.

A window will pop up in "Desktop mode" showing you which version of Windows you're using.

What's the difference between OverDrive for Windows 8 and the desktop version?
OverDrive for Windows 8 uses Microsoft's new "Modern UI." With this app, you get live tiles and refreshed graphics for EPUB eBooks and MP3 audiobooks. This version of OverDrive's app works on both Windows 8 and Windows RT devices. OverDrive for Windows 8 requires you to log in with your OverDrive account, which you can use to sync your reading progress, saved libraries, and bookmarks across devices.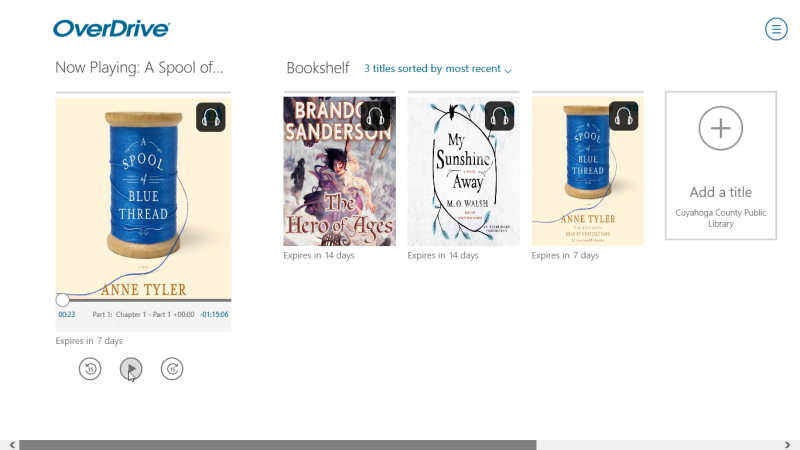 If you'd like to borrow WMV videos or WMA audiobooks and music on your Windows 8 machine, then you'll need to use OverDrive for Windows (desktop). This version can works with Windows 8 because it requires "Desktop mode" and the ability to install legacy apps. If you install OverDrive for Windows (desktop), you can also burn and transfer audiobooks (with publisher permission).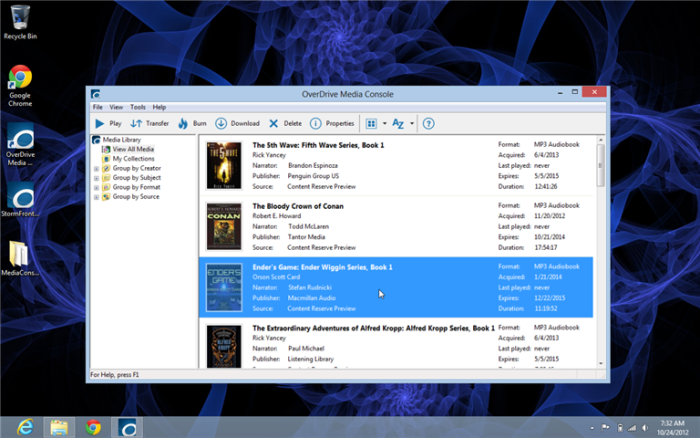 You can even install both versions of the OverDrive app if you're using Windows 8 (not RT). That way, you can read eBooks, listen to MP3 audiobooks, and watch streaming video in the Windows 8 version, and you can use the desktop version to enjoy WMA or WMV titles, transfer, and burn titles (as permitted).