You can borrow and read OverDrive Read and MediaDo Reader eBooks in your web browser, or use the OverDrive app to download and read eBooks from your library's digital collection on your iOS device.
Reading eBooks in your browser
To read an eBook in your web browser, just tap the Read (In your browser) button next to a borrowed eBook on your library Bookshelf.
To learn more about reading eBooks in your browser, please see our guides for OverDrive Read or MediaDo Reader.
Reading eBooks using the OverDrive app
In the OverDrive app, download an EPUB eBook from your library website to the app bookshelf.
Tap an eBook to open it and start reading.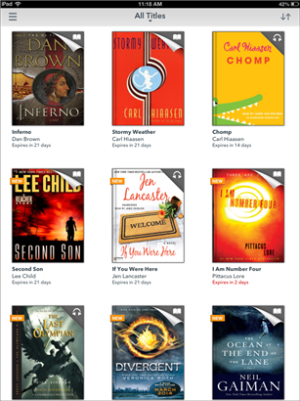 The basics
To go to the next page: Tap the right side of the screen, or swipe the screen from right to left.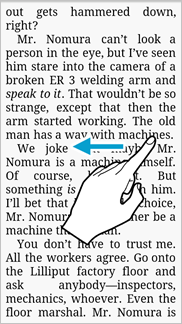 To go to the previous page: Tap the left side of the screen, or swipe the screen from left to right.
Tap the top-right corner of the page to create a bookmark.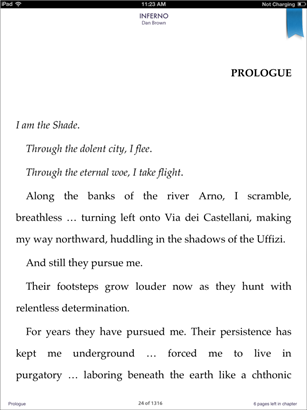 Tap and hold a word, then tap the Dictionary pop-up to look it up in the dictionary.
When the dictionary entry opens, you'll also have the option to search for the term in Wikipedia.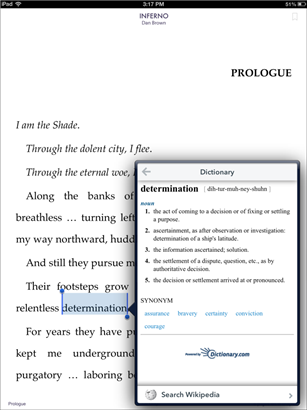 To open a hyperlink in the eBook, tap and hold the link, then select Open.
Reader options

Tap the middle of the screen to view your progress and access the reader options.

Reader options(based on the numbered image above):
Home menu
Title menu

Go back (to previous position)
Brightness
Font settings
Page layout settings
Share
Title menu
With your book progress shown, swipe away from the right edge (bezel) of your screen to open the Title menu. Here you can find Overview, Table of Contents, and saved Bookmarks for the book you're reading.